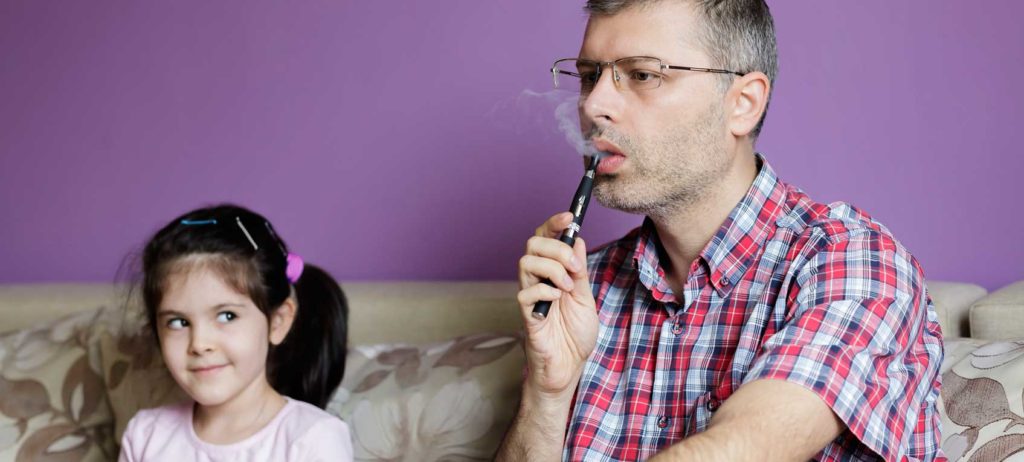 ROSPA (Royal Society for the Prevention of Accidents) has got together with the LFB (London Fire Brigade), CAPT (Child Accident prevention Trust) and the CFOA (Chief Fire Officers Association) to produce a short document giving guidance to parents on ecig usage in the home.
PHE (Public Health England were also consulted in the making of this document. Available here, it's very easy to read and makes its point well.
Covering 3 areas, the advice starts with the risks of smoking in the home:
Health harm – frequent exposure to other people's smoke can increase risks of lung cancer, heart disease and stroke. Second-hand smoke is dangerous for anyone exposed to it, but children are especially vulnerable. Children's exposure to second-hand smoke results in 300,000 UK GP visits and 9,500 hospital admissions a year.
Copying grown-ups – restrictions on where smoking is allowed influences the way children view tobacco and the likelihood that they will start smoking. In homes where smoking is not allowed indoors, children are less likely to start smoking themselves.
Fire risk – fires caused by smoking materials including cigarettes, roll-ups, cigars and pipe tobacco, and their associated lighters and matches, are responsible for the greatest number of deaths from house fires.
They then go on to talk about these areas of concern in relation to ecigs. Health harm is up first again and this time they say that:
"there's no evidence so far of harm to bystanders from exposure to e-cigarette vapour. The many harmful chemicals in tobacco smoke are either not contained in e-cigarette vapour at all, or are usually found at much lower levels".
Obviously it's your home and your choice if you allow people to vape in it but if you do allow it, any risk to you or your children is likely to be extremely low.
Onto copying grown-ups and the advice is:
"Younger children watch and copy adults and if vaping takes place in front of them, there is a chance they will want to mimic an adult by playing with an e-cigarette or trying to blow clouds of vapour. To remove these risks, e-cigarettes should be kept out of the reach of children."
That's really quite important, children should never be able to access your vaping gear, and it should always be kept out of reach or removed to a safe location when you aren't around.
Fire risk is next and again its good advice:
"Poorly made or counterfeit chargers for e-cigarettes have caused house fires but this is a much smaller number than cigarettes (about 2700 per year for smoking related fires, resulting in around 82 deaths) and there are things you can do to manage these risks. Only buy e-cigarettes from reputable outlets, use the correct charger for the device, follow the manufacturer's instructions and don't leave an e-cigarette charging unattended or overnight."
ROSPA have included a final section here on the risk of poisoning and swallowing:
"As with medicines and cleaning products, e-cigarettes and e-liquids should be kept out of the reach of children. After swallowing nicotine fluids symptoms are usually mild and include nausea and vomiting, but serious poisoning can happen after swallowing larger amounts, especially by small children. If e-liquid is swallowed, contact your GP or call NHS 111. In an emergency dial 999."
Small children are inquisitive and put everything in their mouths. Keep your liquids away from small children and babies at all times (and your pets too).
Follow the great advice from ROSPA and there's no reason you can't keep your children and home happier and safer while keeping yourself off the tobacco.