For those of you who have switched to vaping already I have another reason for you to feel a little better about the decision you made to switch away from tobacco cigarettes, for those of you that are still thinking about making the jump this might help to make your mind up. Every smoker, non smoker, and those somewhere in between has heard about the ailments and illnesses that lead from smoking.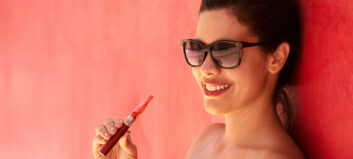 Sometimes the press has even tried to manoeuvre ecigs into that bracket as well and recent public surveys have shown that ecigs are starting to have a bad public perception.
Some research that was released this week shows the opposite side of that argument. Published on the National Center for Biotechnology website which is part of the United States National Library of Medicine, the article was titled "Electronic Cigarette: Role in the Primary Prevention of Oral Cavity Cancer". The researchers wanted to find out if using ecigs had the same effect on the chances of oral cancer as smoking did, or would it be the same as a non smoker?
They took 65 people who were split into 3 groups, non smokers, smokers, and ecig users. The genders and ages were divided equally between the 3 groups and all 65 subjects were required to be either a non smoker, smoker, or ecig user for at least 6 months before the study. The subjects also had to meet other criteria such as no oral disease in the last 6 months, no alcoholism, and no previous history of malignancy. The researchers then took samples from the inside of their mouths and analysed these under a microscope. They were looking for the exposure to carcinogens creating a presence of micronucleus and therefore signs of a cancer risk.
After all that prodding, scraping, and analysing, did they find anything to compare ecigs with tobacco cigarettes? Well, no they didn't. In fact the researchers said that:
"Our results show that e-cigarettes cause no harm in the oral cavity and, therefore, should be suggested as a reliable aid to smoking cessation compared to alternative methods."
Yet another reason to smile, go on, show off those great tobacco free pearly whites and know you have made the right decision to switch to vaping!