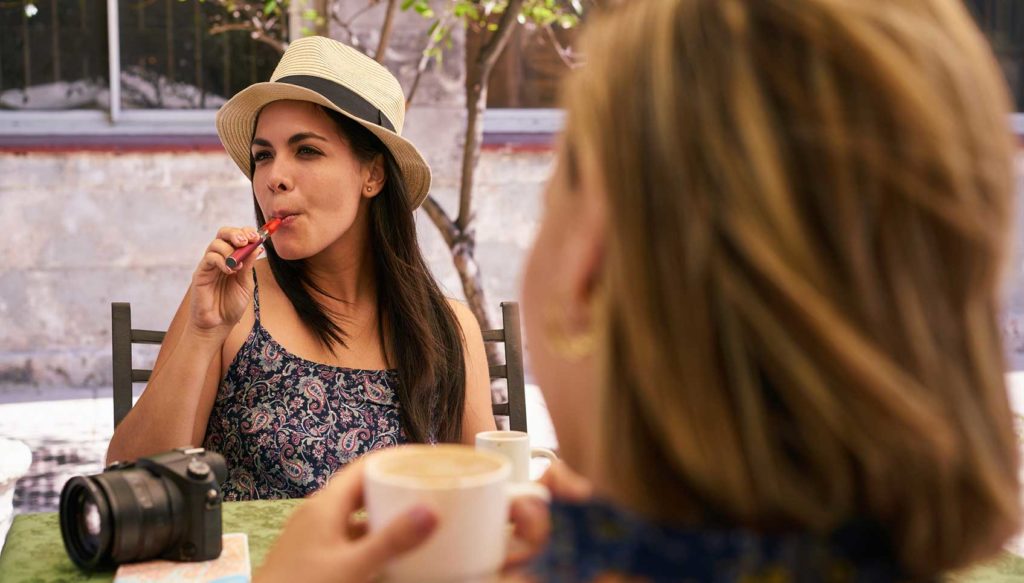 Seeing a vaper in the wild was a rarity only a few short years ago but now we seem to be everywhere. There's now so many of us that the world leader in etiquette, Debretts, has issued their guide to polite vaping. Likening an ecig to your mobile phone, the main advice seems to be if it's rude to use your mobile there then it's rude to use your ecig.
The most serious breach of etiquette is considered to be vaping in a confined space such as a lift or a small space like a waiting room. If it's just me in the lift I admit I do this sometimes, never clouds though and I probably have sneaked a couple of vapes in waiting rooms too.
Second worst on the list of vaping crime is vaping in restaurants or where food is being served. Debretts advise that if you find yourself in a bar or restaurant and there is no clear policy on display then you should always ask. I may also have vaped in a restaurant, and every pub I go into.
Coming in with third place of the most annoying places to vape are queues. Oh dear I'm a terrible person!
Ah-ha, this one I nail! Vaping in cars. Debretts remind us that as a passenger you are a guest in someone else's vehicle and permission should be sought. Their car their rules. I always ask if the driver minds if I vape, most of them say that it's fine and just to open the window a little crack. Public transport however is a huge no unless you can locate a designated smoking area.
Home visits. Always ask if you're in someone else's home, even if they are a close friend and were happy for you to vape last time don't assume it's still ok. When you're the host, its still good manners to ask if anyone objects. I'm 50/50 on this one, if it's someone else's house then I always check first and always offer to go outside, in my own however I vape as I choose unless I know someone has a reaction to it, then I offer to go outside.
In the office. Many workplaces have banned vaping completely except for designated areas but if you're lucky enough to be allowed Debretts advise you try to keep your vaping to moderate levels around your work area. Away from your work area like in kitchens or meeting rooms then it's a no from Debretts. Or, if you can't manage that come work for an ecig company!
Out on a date. If you're with a fellow vaper then relax and enjoy yourself but if you're with a non-vaper (5 times more non-vapers would date a vaper than a smoker so it's possible) it's polite to check they are ok with it and check with the venue too of course. I score high on this one too, I'm married so he doesn't get a choice!
Cloud chasing. If you're not at home on your own Debretts suggest you separate yourself from the group if you wish to do this, many non-vapers see a huge cloud as an invasion of personal space. You should also work on your apology skills too, if vapour accidently goes into someone's face it's a huge breach of good manners. If I spot the vapour going towards someone I do normally apologise for it, I don't do clouds so I'm safe on that one too.
Stealth vaping advice. Don't do it because you will probably be caught and it goes against what the proprietor allows on the premises. I know I shouldn't stealth vape but sometimes I hide under my hair to do it (I have long hair, not detachable hair).
Strongly scented juices. Don't do it in public, all strongly scented aromas are a personal taste, like perfumes for example. Keep them to yourself especially if food is around as it can spoil the enjoyment and tastes for others. I'm safe on this one; most people say they can't smell my juice.
Be open to non-vaper questions and answer them honestly and nicely while trying to dispel any possible myths they may have.
If you want to try another person's ecig or let them try yours don't be offended if someone removes their drip tip, ecigs are not usually disposable items and they may not want their tip to be communally used. I usually carry a spare tip in my bag for just these occasions
Turns out I'm not as bad a vaper as I thought at the start and now you know my biggest vaping faux pas' it's your turn to confess. How many of these do you do?
And remember the advice from Debretts "Just because you are allowed to vape, it doesn't mean you should"