The 15th of June 2017 saw the latest release of the Statistical Bulletin: Adult smoking habits in the UK 2016. Published by the office of national statistics in partnership with Public Health England, the bulletin aims to show the amount of smokers currently in the UK and now it also covers those who have made the switch to an ecig. The survey covers the entire UK and also shows the different results for those 4 nations individually as well as the whole.
The highest percentage of smokers live in Northern Ireland 18.1%, Scotland is at 17.7%, Wales 16.9% and England has just 15.5%. Which makes an average percentage total of 15.8% across all 4 countries, the lowest it has ever been since 2010. Scotland however had the largest decline over all, a massive 7%.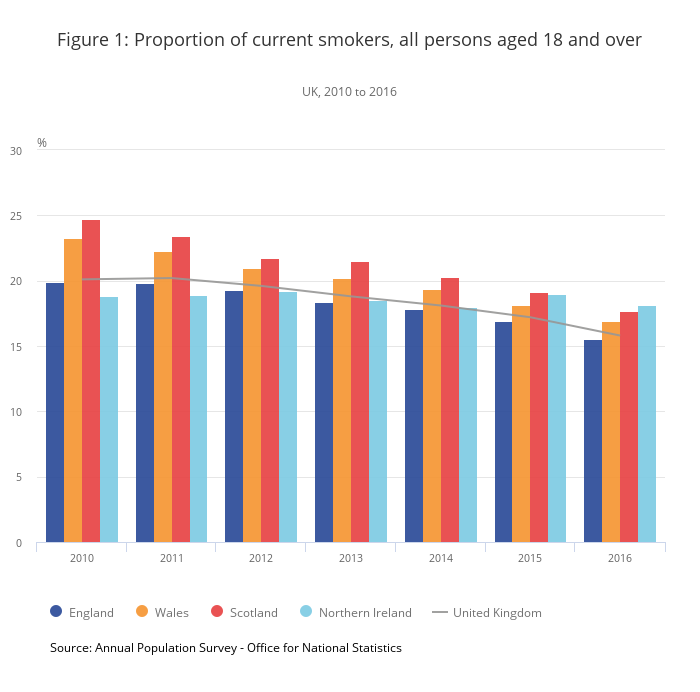 Gender makes a difference too with more men likely to smoke than women but age also plays a part as well. According to the results the younger you are the more likely you are to smoke. However don't judge young people just yet as they also showed the age range with the highest reduction in smoking around 6% in total since 2010. The 18-24 range also showed that they were the most likely to try an ecig and with the huge drop shown in the that age range with tobacco, this is possibly the early signs of the gateway effect we were all warned about, but, the gateway is away from tobacco and not towards it as some experts feared.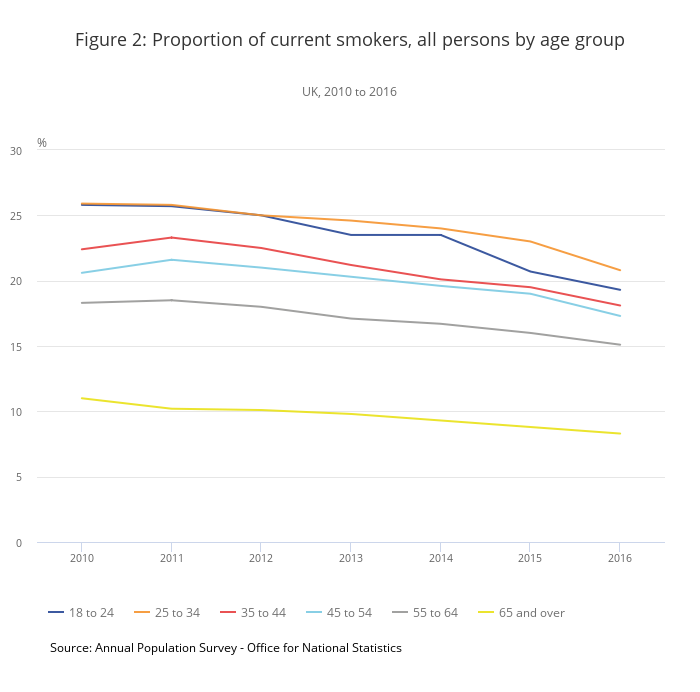 As the smoking rates drop it's highly possible a lot of the former smokers have moved away from cigarettes and towards ecigs, the percentage of down swing for tobacco roughly matches the percentage of upswing towards ecigs. 5.6% of respondents said they were current ecig users, which equates to about 2.9 million people throughout the UK. Again men were more likely to have tried an ecig than women. While those aged around 35-49 were the most likely to be a current ecig user.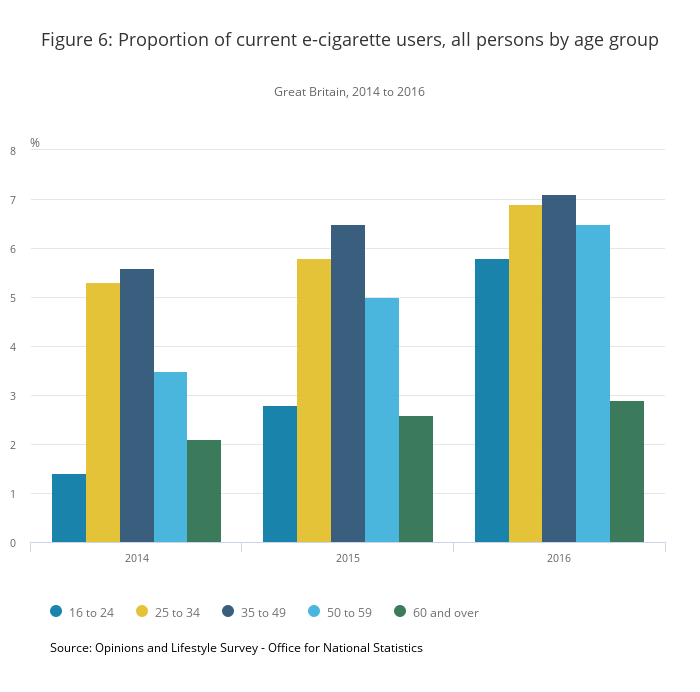 More results and in-depth breakdown is available on the Office of National Statics website.
The ecig results have only been available since 2014 so the full trends aren't yet totally visible but it's a good show of which way the tide is turning, and that's away from tobacco and towards ecigs!