An article regarding the effects of ecigs published on the Daily Mail online received some very angry comments last week, and I can understand why. Published on the 29th of October, the article talks about a recent study which found that ecig users are more likely to be problem drinkers. I've said it before and I'll say it again; I'm a big fan of the science but even I had to look at this one and ask … "what?!"
The article headline makes the first accusation:
"E-cigarette users are 'significantly more likely' to be problem drinkers: Devices encourage excess alcohol consumption, study claims".
The study, based in the U.S.A., interviewed a total of 1400 people – some who were vapers, some who weren't. They divided these 1400 into 2 groups, and asked them about their drinking habits and ecig usage. In both groups, the study found that ecig use led to more drinking, and vice versa.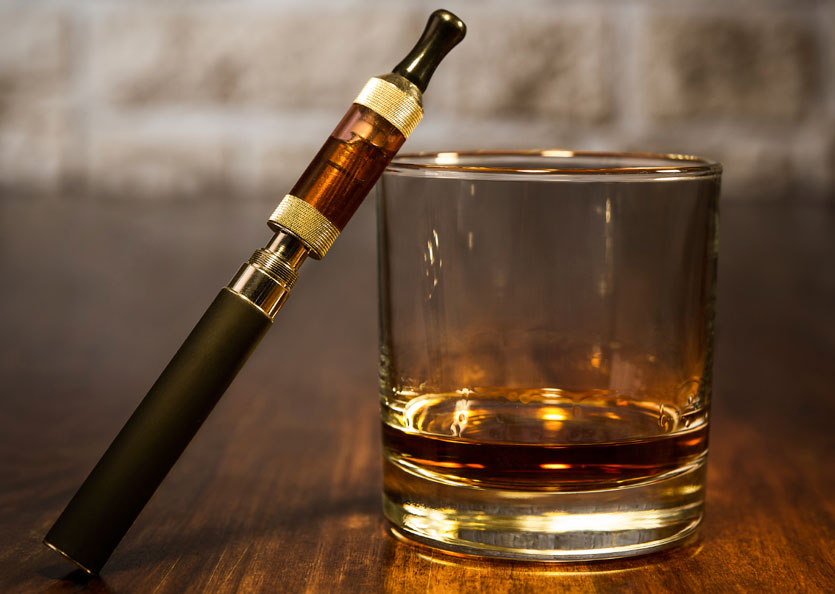 As ex-smokers, I think we all knew that a drink down the local pub meant one or two more ciggys smoked that evening. As a vaper I can say the same; going out for a cheeky glass of wine on an evening with some friends means I probably do have a few more drags on my ecig than I would if I stayed at home in front of the TV with a glass of water. However, I don't turn into a "problem drinker". According to the article, "those who expected to use the devices and alcohol together reported drinking more". Maybe I remain unaware about my own drinking habits?  
Unfortunately, this article doesn't mention four important little things. Firstly, how do we define a problem drinker? Someone who has a glass of wine on a weekly night out with friends or someone who has so much that they don't remember where they live? I'd think that the latter was definitely a warning sign that there may be a deeper issue, especially if this a nightly occurrence.  
Secondly, for a smoker,the pub has always been a trigger point; a nice ciggy does tend to go well with a glass of something special. So a lot of smokers who decide to quit cold turkey (or another way), tend to avoid trigger points like the pub. Therefore, there is a very good chance that their alcohol consumption is going to go down, whereas an ecig user is still happy to live life exactly the same way they would have before, because they can use their ecig to satisfy the cravings that may come with a drink, so they don't need to remove themselves from their routine in any way. Maybe vapers just are a more social bunch!
Thirdly, do non-smokers not drink at all? I'm fairly sure that you and I have definitely seen at least one nonsmoker in a pub before, but from this article it really sounds as though if they were in the pub, they would have stuck to mineral water.
Lastly, the article doesn't specify just how many of the 1400 surveyed were actually vapers or if they had an alcohol problem before they became vapers. It also didn't clarify what the study authors classified as a drinking problem, and if any of the 1400 classified themselves as teetotalers. In my opinion, this is a poorly designed study; with far too many variables to take into account and with such a small sample size, the results were never going to "prove" anything that we didn't already know.
After taking all these points into consideration, I think my glass of wine on a Friday night is fine and I'm not in the least worried that my ecig is driving me to drink. Even if I do tend to vape more when I have a drink, why is this seen as a problem? It shouldn't be, because vaping is much safer than smoking cigarettes.
Nevertheless, if you do feel that excessive alcohol consumption may be an issue you're dealing with, it does need to be addressed, whether you are a vaper or not. Help and advice is readily available for those who need it; your GP can put you in contact with people who can help, or a local AA group may be an option you can look at.