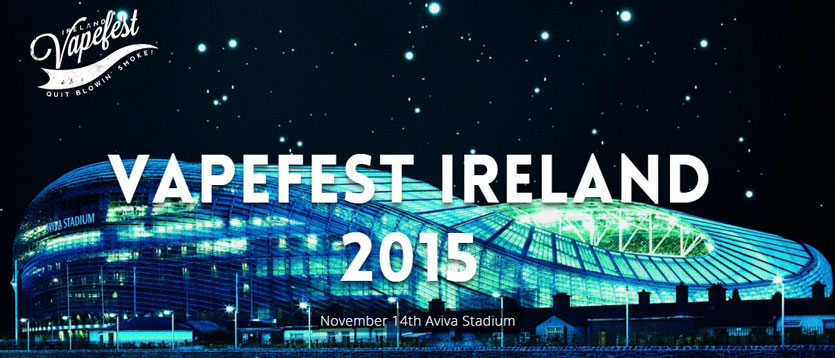 Saturday the 14th of November sees the 3rd Annual VapeFest Ireland event. This year, it's being held at the Aviva Stadium in Dublin and, as expected, entry to this fantastic vaping event is free.
Yet again, it's set to be bigger and better than ever before. A strict over 18 only policy will be in place, so if you have been asked for your I.D. recently, make sure you bring yours along, as there is a good chance you will be asked for it at the door; and if you don't have it, you won't be allowed in. Once you prove you're old enough you're good to go, so enjoy this year's festivities! What should you expect this year?
Of course, there's the raffle. Only 3 prizes are available this year, but it's a raffle you will definitely want to win. Each of the 3 prizes will total over €1000 and include, amongst other things, a specially customised VapeFest Ireland mod from Elemental, 4 different tanks and drippers, batteries, chargers and enough juice to last you until next year's VapeFest Ireland. Tickets will be available on the day at €2.50 each or 5 for €10.
There will also be a few special guests (apart from those of us from Phoenix and EL-Science). The first to sign up was the legend that is Grimm Green, pioneer of Youtube ecig reviews since 2009. There's nothing this guy doesn't know about ecigs and he's looking forward to meeting you. The other confirmed special guest is Pip Gresham, the lady behind Suicide Bunny. She's an expert on mixing eliquid and she will also be available to answer any questions you may have.  
At some point during the day you may also spot a representative from Guinness – not the brewery (although it is in Ireland so maybe them too), but the World Record people. There is a good chance you may be asked to take part in a setting a new World Record; the plan is to have over 500 people on the main stage all blowing a vape cloud at the same time. Not only can you meet Grimm Green, Pip from Suicide Bunny and have the chance to take home over €1000 worth of goodies, but you could also end up in the record books; what's not to love about all that?   
My flight is booked, my hotel is waiting for me to check in, I've nearly got my bag packed and I've already got my t-shirt ironed. I think I'm good to go. All that's left to say is see you there!