Our eLiquid wholesale model is mostly typical, with the added benefit that we will work with you to help you grow your business should you wish us to do so. The electronic cigarette industry can be difficult to navigate for a new business and so we strive to make it easier for you; you simply purchase in bulk from our central production warehouse and we deliver to you the very next day.
Additionally, Phoenix is ready and prepared to navigate through all upcoming legislation, including that derived from the Tobacco Products Directive (TPD) which will be implemented in May 2016, so you can be assured that our products can be sold and used even after this date as we will be compliant.
Next day delivery within the UK guaranteed for all orders placed before 1 pm.
Our Products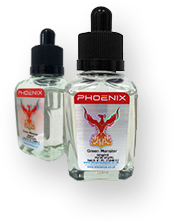 Our range of eLiquid is manufactured here in the UK by qualified chemists. Every batch of our eLiquid is fully analysed through our dedicated eLiquid laboratory. EL-Science is our technical division, responsible for the quality of our eLiquid and is led by a fully qualified doctor of analytical chemistry. More information is available at our sister website www.elscience.co.uk
Our electronic cigarette hardware is specifically sourced providing new and established business with a very solid quality platform to build from. Our products are the highest quality available, yet due to our national scale, we are able to offer all of our products at the lowest, most competitive prices.
Our Partners
We fully understand the pressures on a small business and as such we work very closely with our customers, building more of a partnership than the usual simple customer supplier relationship. We have a vested interest in your success after all!
Our Experience
We work with all of our customers bringing our technical and retail expertise directly to you. From assistance with marketing and sales trends to hardware advice and sales training, we are here to help. We are happy to assist you when making those first orders particularly if you're setting up a new venture. We know how the new shop model works and what to expect and we are happy to assist in any way we can to ensure you are ordering exactly what you need for your particular business stage.
Our Technical Expertise
Our team of scientists, housed at our dedicated EL-Science division, are on hand to answer any technical questions which may be thrown your way. This same team of fully qualified chemists perform the manufacture and analysis of each and every batch of our eLiquid.
Each of our flavours is developed over a period of several months led by our highly experienced flavour developer. Each flavour must pass through several flavour development panels before we accept it for production, so you can be sure that you are selling a quality product.
EL-Science is also home to our dedicated analytical laboratory which houses our brand new, £100,000 GCMS. This instrument is one of the most powerful GCMS in the country, outperforming the capabilities of many top commercial chemical laboratories. We use this amazing piece of equipment to analyse our eLiquid batches and to further the wider industry technical knowledge base. Further information can be found though our dedicated information site at www.elscience.co.uk
Get in touch with us today to find out more about becoming a Phoenix wholesaler.
How to become a Wholesaler
Step 1

Compatibility Check: To be an authorised wholesaler, you need to be an official retailer.

Step 2

Understanding pricing structure: If compatible, we will take you through our pricing structure, which drops over time based on volume.

Step 3

Customer Registration: You are registered to be an authorised wholesaler and a dedicated customer account manager is assigned to you.

Step 4

Order stock with next day delivery: If you place an order before 1:00 pm within the UK, it will be delivered to you the next day.
Get in touch with us today to find out more about becoming a Phoenix wholesaler.